THE AMAZING CITY FOR WANDERERS, SPIRITUAL SEEKERS AND BACKPACKERS
Top 8 Things To Do / Places to Visit In Varanasi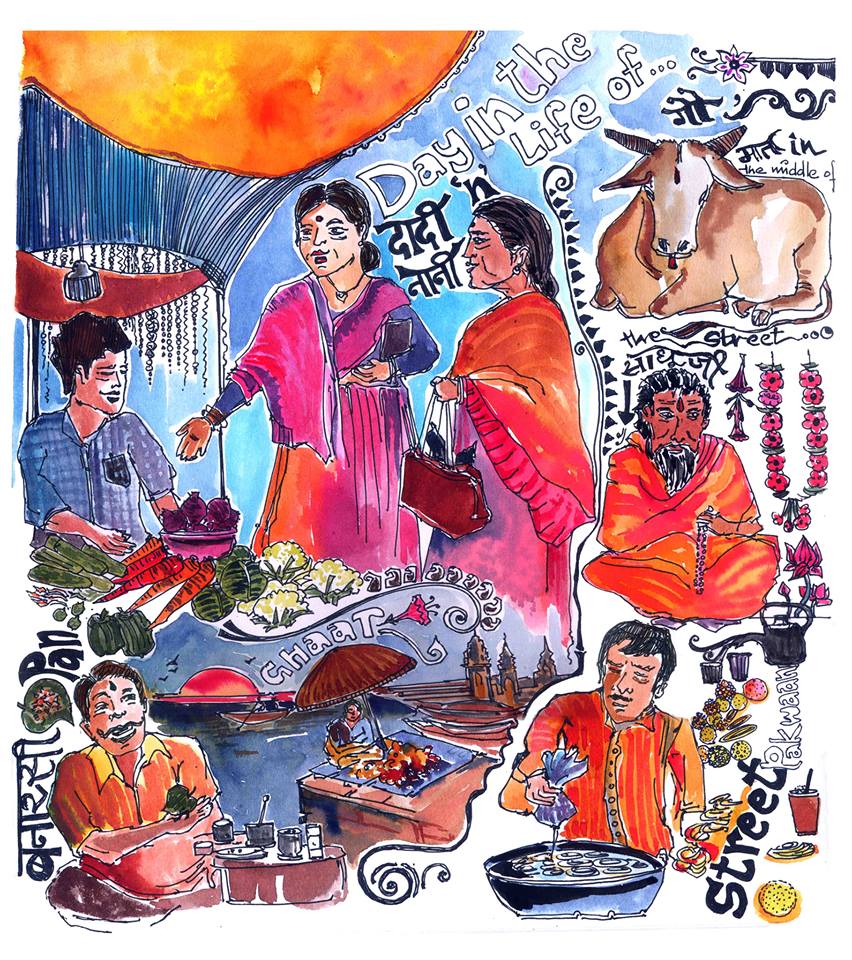 Kashi Vishwanath Temple
This is amongst the oldest temples in India and one of the most prominent Jyotirlingam (the radiant symbol of the almighty Lord Shiva). Kashi Vishwanath Temple is a prime attraction of Varanasi. In fact, it is because of this temple that Varanasi is regarded as one of the most sacred places in India. The temple is about 10 min brisk walk from the Granny's Inn.
Dashaswamedh Ghat
It is the main ghat in Varanasi on the Ganga. It is located close to Vishwanath Temple and is probably the most spectacular ghat. Two Hindu theologies are associated with it. According to one, Lord Brahma created it to welcome Lord Shiva. According to another legend, Lord Brahma sacrificed ten horses during Dasa-Ashwamedha yajna performed here. Once again the ghat is just about 10 min walk from Granny's Inn.
You may ask Mayur to arrange a boat ride on the ganga in the morning or the ganga aarti in the evening.
Assi Ghat
This is the southernmost ghat in Varanasi at the confluence of the rivers Assi and Ganga, and is famous for the large Shiva Lingam installed under a peepal
tree. It has immense religious importance and has been mentioned in the Puranas and in various legends as well. It was at Assi Ghat that Tulsidas left for
heavenly abode.
To most visitors to Varanasi, Assi Ghat is known for being a place where long-term foreign students, researchers and tourists live. It is one of the ghats often visited for recreation and during festivals. It has few nice hotels, guest houses and cafes.
Kashinath Singh's Hindi novel Kashi Ka Assi is set in the mohalla near the ghat. The novel was adapted as Mohalla Assi – a Bollywood film (2011) starring Sunny Deol.
Raanjhanaa (2013) – another Varanasi based Bollywood movie also has many scenes of "Assi Ghat".
Sarnath
This is a city located 13 km north-east of Varanasi near the confluence of the Ganges and the Gomati rivers. The deer park in Sarnath is where Gautama Buddha first taught the Dharma, and where the Buddhist Sangha came into existence.

Marvel at the 5th century Chaukhandi Stupa which was built to mark the place where Lord Buddha first met his disciples. The place holds immense historical, religious as well as architectural importance today. A well known attraction in Sarnath is the Thai Temple, set amongst beautiful gardens and managed by Thai Buddhist Monks.
At Sarnath, you will also find the Ashoka Pillar – the national emblem of India and a mark of Emperor Ashoka's visit to Sarnath. This 50 m tall pillar crafted out of a stone is a very impressive structure. Again we can arrange a cab or a tuk tuk ride to Sarnath from Granny's Inn. Just let us know in advance.
The Blue Lassi Shop
This is a tiny, hole-in-the-wall yoghurt shop that has been churning out the freshest, creamiest, fruit-filled lassis since 1925! It's situated about 3 minutes walk away from the riverside at Manikarnika Ghat, the main burning ghat. Lassi is a popular, traditional, yogurt-based drink from the Indian subcontinent and originates from the Punjab.
Lassi is a blend of yogurt, water, spices and sometimes, fruit. Traditional lassi (a.k.a., "salted lassi", or simply, "lassi") is a savoury drink, sometimes flavoured with ground and roasted cumin. Sweet lassi, however, contains sugar or fruits, instead of spices.
The Blue Lassi in Varanasi is a bit of a legend, primarily amongst the Korean and Japanese travel communities and you will be shoulder to shoulder on the two small wooden benches with plenty of these fine people should you make your way to this little shady street-slice of heaven.
The Blue Lassi shop has an endless menu of 'lassi'. From plain to banana, to chocolate to saffron to just about any combination of fruit that one can imagine.
Trip to the Banarasi Saree (Sari) Factory & Shops
Banarasi sarees are among the finest sarees in India and are known for their gold and silver brocade or zari, fine silk and opulent embroidery. And because of engravings are relatively heavy. These sarees are often part of an Indian bride's trousseau.
Depending on the intricacy of its designs and patterns, a saree can take from 15 days to a month and sometimes up to six months to complete. Banarasi sarees are mostly worn by Indian women on important occasions such as when attending a wedding and are expected to be complemented by the woman's best jewelry.
In 2009, after two years of wait, weaver associations in Uttar Pradesh, secured Geographical Indication (GI) rights for the 'Banaras Brocades and Sarees'.
And guess what, if you tell us in advance, we can arrange a Banarasi saree factory visit where you can watch the intricate weaving on a handloom. In case you wish, we can even arrange a visit to the better sari shops. No pressure to buy anything. By the way, the grannies have a great taste in Banarasi saris and can help you get a good deal if you so desire!
Food Trail Of Varanasi*
Varanasi is famous for it's street food. That spicy taste bud tantaliser called 'chaat'. And amongst the best chaat bhandars (shops) – Kashi as well as Dina Chat are just walking distance from the Granny's Inn. Dig into some spicy chaat at one of these two places. Try some hot tikkis or tangy golgappas. We promise it's among the tastiest street foods of India.
One unique item which you must try is the 'Tamatar (Tomato) Chaat'. Served in earthern pots, it is a mixture of thick tomato gravy (simmering on a hot tawa), chhole, peas, onions, a range of spices thrown in along with a number of different chutneys and a good squeeze of lime, topped with farsan and coriander.
You must also try the unique Banarasi Chuda matar (poha and peas with dryfruits, Spinach papdi chaat and Gulab jamuns besides the regular chaat fare.
One word of caution, however, is that most of the roadside chaats are prepared in Dalda, Vanaspati Ghee which can be hazardous (besides being unhygienic, of course) to ones health. So be careful and think twice before gorging.
Those having a sweet tooth need not worry either. There are a number of old sweetshops near and around the chowk area – Madhur Jalpan, Ram Bhandar near Thatheri Bazaar and Shri RajBandhu in Kachori Galli to name a few. Shri RajBandhu situated in the lane leading to Manikarnika ghat, has a wide variety of sweets.
We reommmnd the famed Lal Pedas for your friends and relatives back home. What's more, they also have samosas and kachoris claimed to be cooked in Pure Desi Ghee. Though they are a little expensive than its roadside counterpart, they taste much better and are definitely worth the extra bucks.
Again, we can arrange a half day or a full day full trail for you. Please write to us at the time of booking in case you would like to go on one!
*Complied from myyatradiary.com
Tuk Tuk Varanasi
Tuk-Tuk Varanasi is the fun and rough way to experience the heritage, chaos and colour of Varanasi on a tuk tuk ( or the auto rickshaw)
You can do the following rides:
1 hr ride
Half day trip
Full day trip to Sarnath
Full day trip within Varanasi( temples, food trail and cafes)
We have a very quirky, amiable tuk-tuk wala on our roll . Ask for Shuklaji!
Ping us for details on the rides and the tariff.